Gaza militants launch rocket attacks in retaliation

JERUSALEM (CNN) -- Palestinian militants fired more than 30 rockets and mortars from Gaza into Israel on Wednesday days after Israeli Prime Minister Ehud Olmert threatened to respond to the ongoing attacks.

The Israel Defense Forces said following the firing of rockets, crossings from Israel into Gaza will remain closed Wednesday, and humanitarian aid that was supposed to enter Gaza will not go in.

Sources with the military wing of Hamas said the group fired a number of mortars into Israel from an area east of Khan Younes in southern Gaza. The sources also said two members of the military wing were killed Wednesday morning during a "work" related accident, while on a Jihad mission.

A tenuous six-month truce between the Hamas government in Gaza and Israel expired on December 19. Under the Egyptian-brokered deal, Hamas agreed to end militant attacks on Israel from Gaza, and Israel agreed to halt raids inside the territory and ease its blockade on humanitarian goods.

In reality, the truce had started breaking down in October. Rocket attacks by militants became more frequent, and Israel resumed airstrikes inside Gaza.

On Sunday, Olmert said Israel will "take the necessary measures" to respond to the rocket attacks from Gaza.

"Israel will know when to respond correctly and with the necessary responsibility," Olmert said at the beginning of his weekly Cabinet meeting.

He said he would "not go into detail" about what actions Israel would take, but insisted the country had formulated various plans to respond to different contingencies.

"A responsible government is neither eager for battle, nor does it shy away from it," Olmert said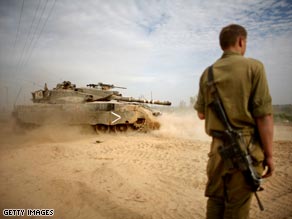 Izzedine Al Qassam, the military wing of Hamas, announced in a statement on its Web site it had fired four rockets in revenge for what it called the "assassination" of five of its members by the Israeli military.

One of the rockets landed in an industrial section of Ashkelon, north of Gaza, while other rockets struck a house in Kibbutz Kfar Aza and landed near the town of Netivot.

An Israeli police spokesman said no one was injured in the rocket barrage.