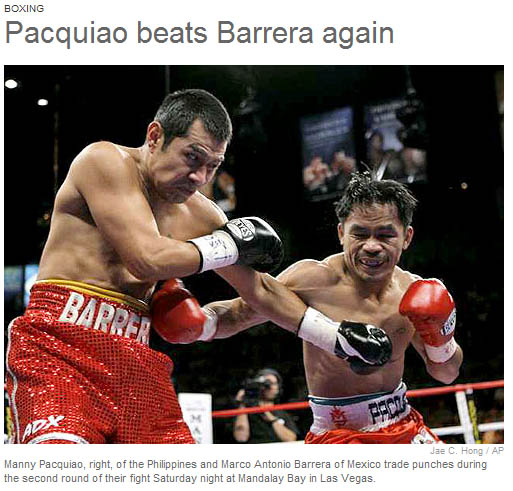 LAS VEGAS -- Though Marco Antonio Barrera kept his feet, Manny Pacquiao kept his supremacy.

Pacquiao beat Barrera for the second time Saturday night, winning a gritty unanimous decision nearly four years after the Philippines' favorite son became a boxing superstar with an upset victory over Barrera.

Neither fighter generated many fireworks until a strong finish in their 130-pound bout at Mandalay Bay. But not even an illegal 11th-round blow by Barrera could slow down the lightning-quick Pacquiao, who showed his world-class reflexes haven't slowed in his sixth straight victory.

Barrera lost a point for a head shot that discombobulated Pacquiao after the referee moved in to separate them in the 11th, but Pacquiao recovered in time to reach the final bell.

Though Barrera claims he'll retire after consecutive losses this year, the result was a moral victory, as evidenced by the Mexican fans who stood and cheered the 33-year-old as he left the ring.

Pacquiao caused the only TKO loss of the Mexican champion's career in their first meeting in late 2003, and Barrera refused to go down against one of the sport's knockout artists.

Both fighters raised their arms in celebration at the end, but Barrera's excitement seemed forced. Judge Tom Schreck scored it 115-112 for Pacquiao, while Jerry Roth and Glenn Trowbridge both favored Pacquiao 118-109. The Associated Press also gave it to Pacquiao, 116-111.