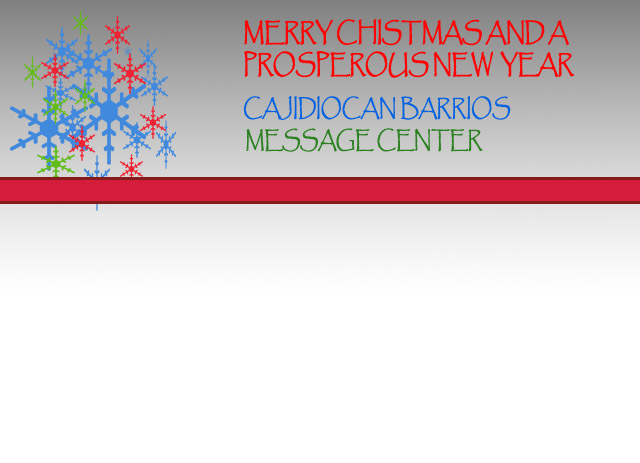 Please check the functionality of our new MESSAGE CENTER site. We designed this to make our web surfing and messages posting more user-friendly basing on the traditional website design which is kind of boring.

Also be reminded that the Webmaster is not responsible on some unpleasant remarks and comments made on the  GUEST BOOK. So please post responsibly.

WE WISH YOU A MERRY CHRISTMAS AND A HAPPY NEW YEAR.

Please make note that the old MESSAGE CENTER Guest Book will be deactivated January 31, 2009. Messages after this date will no longer be accessible.

If possible please start posting on the new Message Center. 

Death toll in Cagayan sea tragedy climbs to 44

MANILA, Philippines – Local authorities on Wednesday said the number of confirmed deaths in the M/B Maejan sea tragedy off Cagayan province rose to 44 while nine others remain missing.

In a phone interview with GMANews.TV, Senior Inspector Alex delos Santos,police chief in Ballesteros, Cagayan, said 13 more bodies were recovered Wednesday morning.

Delos Santos said the number of survivors was still pegged at 45.

In another phone interview, PO1 Alona Jimenez identified 30 of the fatalities as:

1. Amy Arellano

2. Winifredo Agarpao

3. Angel Suarez

4. Christine Cangas

5.Eva Llopis

6. Asela Tamboa

7. Ofelia Fadero Balmes

8. Paz Escalante

9.Adena Tan Arellano

10. Ralaine Allado

11. Nelly Cangas

12. Leonardo Llopis

13. Delia Llopis

14. Marilou Menor

15. Leonila Gorospe

16. Salvacion Duerme

17. Relly dela Cruz

18. Innocencia Llopis

19. Generosa Duero

20.Letty Bernejo Balmores

21. Nicetas Duero

22. Esperanza Duerma

23. Rhea Cangas

24. Rhea Cangas' one-year-old baby

25. Raica Allado

26. James Neil Duerme

27. Luzviminda Visario

28. Aaron Tamboa

29. Ivonne Ydel

30. Raymond Remolacio 

The remaining 14 passengers have yet to be identified, Jimenez said.

The wooden-hulled M/B Maejan left the Calayan port in Cagayan province Sunday morning but failed to enter the port of Aparri due to big waves and strong current until it was dragged and capsized about 50 meters from the shoreline of Pallog village in Ballesteros town.

The cargo vessel was loaded with more than 100 people along with a cargo of pigs, cows and carabaos (water buffaloes). Earlier reports said that M/B Maejan was authorized to carry only 50 passengers. – Sophia R. Dedace, GMANews.TV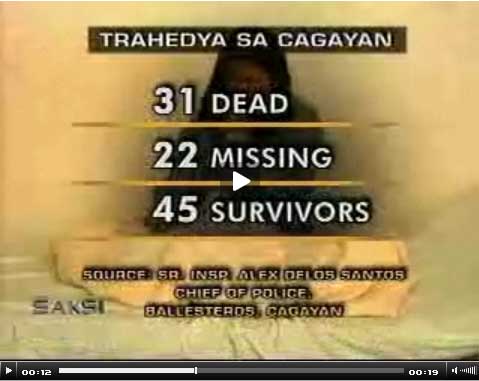 Death toll in Cagayan sea tragedy climbs to 44


Courtesy of GMA News,Beta